When brown rust spots appeared on the surface of
stainless steel pipes
, people were surprised: "Stainless steel does not rust, and rust is not stainless steel. It may be that there is a problem with the steel." In fact, this is a one-sided misconception about the lack of understanding of stainless steel. Stainless steel can also rust under certain conditions. Stainless steel relies on a very thin, strong, dense and stable chromium-rich oxide film formed on its surface to prevent oxygen atoms from continuing to penetrate and continue to oxidize, thereby obtaining the ability to resist rust. Once this film is continuously destroyed for some reason, oxygen atoms in the air or liquid will continue to infiltrate or iron atoms in the metal will continue to separate out, forming loose iron oxide, and the metal surface will continue to be rusted. There are many forms of damage to this surface film, and the following are more common in daily life:
1. The surface of stainless steel has accumulated dust containing other metal elements or attachments of foreign metal particles. In humid air, the condensation between the attachments and stainless steel connects the two into a micro battery, which initiates an electrochemical reaction. , The protective film is damaged, which is called electrochemical corrosion.
2. The surface of stainless steel adheres to the organic juice (such as melon, vegetable, noodle soup, sputum, etc.), which forms organic acid in the presence of water and oxygen, and the organic acid will corrode the metal surface for a long time.
3. The surface of stainless steel adheres to containing acid, alkali, and salt substances (such as alkaline water and lime water splashing on the decoration wall), causing local corrosion.
4. In polluted air (such as the atmosphere containing a lot of sulfide, carbon oxide, and nitrogen oxide), it will form sulfuric acid, nitric acid, and acetic acid liquid spots when encountering condensed water, causing chemical corrosion.
The above conditions can cause damage to the protective film on the stainless steel surface and cause rust. Therefore, to ensure that the metal surface is permanently bright and not corroded.
Stainless steel
has the ability to resist atmospheric oxidation---that is, rust resistance, and it also has the ability to corrode in media containing acid, alkali and salt---that is, corrosion resistance. However, the size of its anti-corrosion ability varies with the chemical composition of the steel itself, the state of mutual addition, the conditions of use and the type of environmental media. For example, 304 steel pipe, in a dry and clean atmosphere, has absolutely excellent anti-corrosion ability, but when it is moved to the seaside area, it will quickly rust in the sea fog containing a lot of salt; while 316 steel pipe has performance good. Therefore, it is not any kind of stainless steel, which is corrosion-resistant and does not rust in any environment.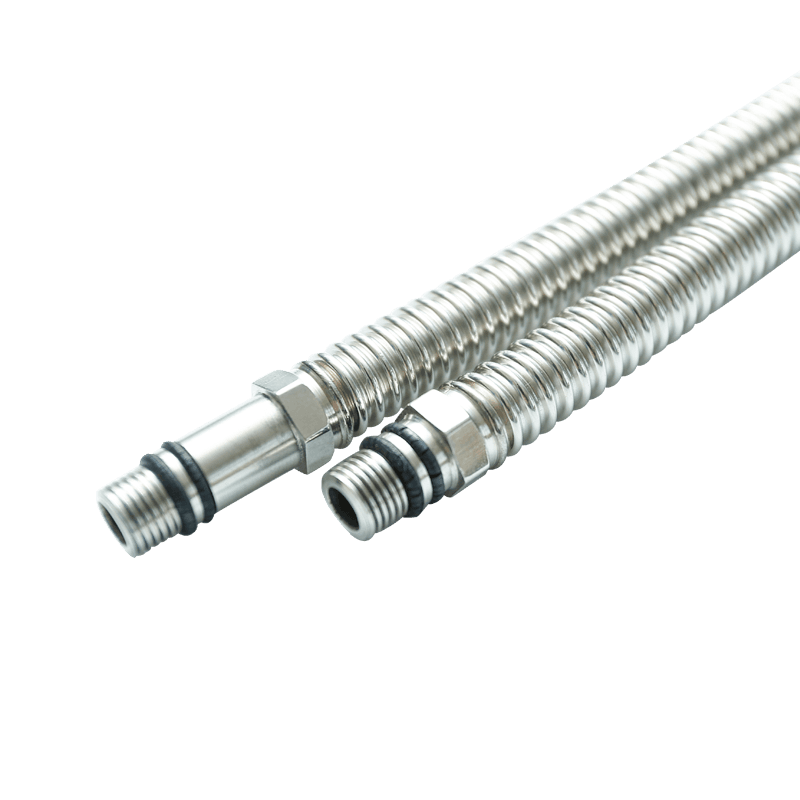 Shanghai Sansheng Health Technology Co.,Ltd. with more than 20 years' history is headquartered in Shanghai city. We enjoy very convenient traffic, near Pudong airport and Ningbo port. Shanghai factory covers over 24000 square meters, produces corrugated stainless steel tube. The branch factory is located in Yuhuan Zhejiang province, supply all kinds of brass valves and fittings.As a famous 
China flexible metal hoses manufacturers
 and 
custom metal flex hoses factory
, our core business is the production of CSST corrugated stainless steel tube 304 (with high resistance to pressure and deformation ) for two different applications: Plumbing and Gas.We specialize in manufacturing and supplying a wide variety of water tube and gas tube, 
wholesale metal flex hoses
, and all kinds of fittings. Our ISO9001 certification further assures our internal and external quality control. We guarantee our customers high-quality products, quick delivery, and direct and attentive customer service. All the while we continue to actively seek mutual cooperation in business and technology, advocating OEM and ODM projects. We are looking forward to working with you.