As a gas hose, a steel wire hose refers to a hose with a steel wire braid inside, that is, our above-mentioned rubber plastic hose, which replaces the fiber braided layer used to increase the pressure-bearing capacity with a steel wire braided layer.
If this gas hose meets its production standards, it is a regular product, and of course it can be used and is relatively safe. However, for household gas, there is no need to deliberately buy this kind of steel wire hose. As far as rubber hoses are concerned, the steel wire does not have the effect of preventing rat bites, and the pressure of household gas is generally a fiber braid. The hose is sufficient, and this steel wire hose cannot effectively prevent the normal aging of the hose. So there is no need to deliberately pursue this kind of steel wire hose. In addition, I want to explain to you that there is currently a steel wire braided hose without a protective layer on the outside. This type of hose is generally used as a water pipe and cannot be used as a gas. Don't use this kind of hose as a gas hose.
Which hose is safe and practical?
The
stainless steel corrugated hose
is the safest and most practical, and it is also the most recommended gas hose.
Among them, rubber and plastic hoses are easy to age, are not abrasion-resistant, and are prone to rat bites. They are not safe; aluminum-plastic pipes are generally not used for gas equipment connection due to their poor flexibility; armored metal hoses, although they can prevent Rat bites, but its joints still have the problem of aging easily and are not very safe. Therefore, for now, the stainless steel corrugated hose is safer and more practical.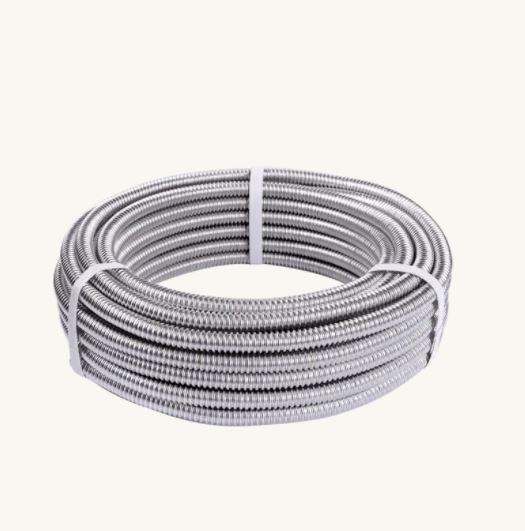 Shanghai Sansheng Health Technology Co.,Ltd. with more than 20 years' history is headquartered in Shanghai city. We enjoy very convenient traffic, near Pudong airport and Ningbo port. Shanghai factory covers over 24000 square meters, produces corrugated stainless steel tube. The branch factory is located in Yuhuan Zhejiang province, supply all kinds of brass valves and fittings.As a famous 
China corrugated stainless steel tubing manufacturers
 and 
custom stainless steel flexible hoses factory
, our core business is the production of CSST corrugated stainless steel tube 304 (with high resistance to pressure and deformation ) for two different applications: Plumbing and Gas.We specialize in manufacturing and supplying a wide variety of water tube and gas tube, 
wholesale stainless steel flexible hoses
, and all kinds of fittings. Our ISO9001 certification further assures our internal and external quality control. We guarantee our customers high-quality products, quick delivery, and direct and attentive customer service. All the while we continue to actively seek mutual cooperation in business and technology, advocating OEM and ODM projects. We are looking forward to working with you.