Stainless steel
gas connectors
are a great choice for residential applications. They're resistant to common household cleaners and solder flux, as well as UV rays and salt spray. Stainless steel
gas connectors
are also available in whisper free designs, which eliminate the whistling noise associated with high BTU gas flows. Whisper free connectors are made with specially designed corrugated tubing to reduce noise from the gas system.
Another disadvantage of cheap, older gas connectors is that they're less reliable and are prone to leakage. The problem is even more serious when you consider the latent hazard of old connectors. For example, if you're selling a home, make sure you replace the connectors before you move it. The problem with uncoated brass connectors is that they can't handle the constant stress placed on them. This could result in a leak or fire, which can be extremely dangerous.
In addition to quality gas connectors, you should also pay attention to the diameter and length of the gas line you plan to connect. Smaller diameters and longer lengths will lower the BTU flow rate capacity, and the greater the number of bends in the gas line, the lower the BTU flow rate capacity. Also, you should avoid excessive length because this increases the risk of vibration damage to the flexible gas line.
When installing a gas connector, ensure that the gas line is connected to a gas shut-off valve before you start. You can use dishwashing liquid or commercial leak testing solutions to check the connections. If you find any bubbles, tighten the connections, or replace the pipe fitting altogether. By implementing the steps above, you can minimize the risks of a leaky gas connection and keep your gas system safe.
Flexible gas connectors are another great choice for connecting gas appliances to your gas piping system. They can be made from corrugated stainless steel tubing. They are authorized products and are highly efficient in delivering gas to various appliances. Make sure to choose a flexible gas connector that fits the diameter of the pipe. You should also consider the length to ensure that the connector you purchase will fit your gas supply. That way, you can avoid wasting time and money re-installing a gas appliance.
Flexible metal hoses
should be installed by a qualified professional. Manufacturers often provide installation instructions online or with gas equipment. Some of these hoses are also available as a flexible hose that can be easily mounted on casters. This makes it easy to roll up the gas equipment for cleaning and maintenance.
When installing flexible gas lines, you may want to replace the old coiled soft copper piping with a flexible stainless connector that is flexible and can be connected directly to the valve. The flexible gas line can be reused in other appliances. It is very important to avoid kinking the gas tubing when putting in a flare connection.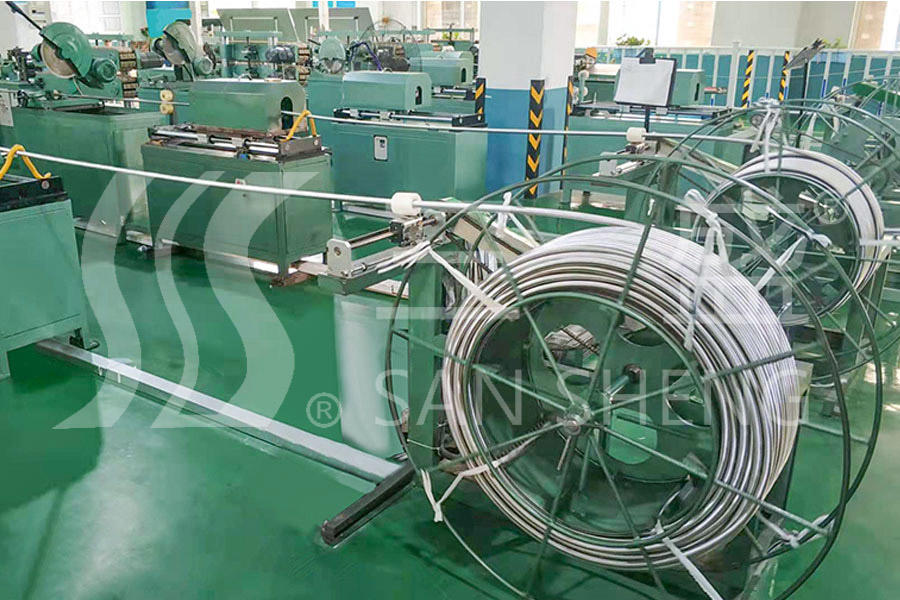 1: Healthy, safe, environment
2: High and low temperature resistance, high pressure resistance
3: No scaling, corrosion resistance
4. Resistant to pressure deformation, good flexibility
Gas tube is special tube used for gas application. Instead of traditional rubber hose, Sansheng gas tube is easy to install, reliable connection, corrosion resistance, more flexible, long life, good bending performance. The flexible covering material make the tube more safe, cleaner and nicer. It is widely used in the market .