Corrugated pipe: used for high-temperature liquid and gas transmission water heater inlet pipe, gas delivery pipe faucet inlet pipe, etc. For areas with poor water quality, the water heater connecting pipe is preferred to choose the corrugated pipe for longer use time
Advantages of stainless steel bellows: corrosion resistance, high temperature resistance, high pressure resistance, suitable for heating pipe diameters equal to large water flow The part bends otherwise it will cause the wall of the corrugated pipe to break
A: The composition of the parts
Stainless steel braided hose: wire, steel sleeve, core, nut
Bellows: hexagonal cap, tube body, gasket, plastic sleeve
B: Effect
Braided pipe: It is mainly used to connect the angle valve at the water inlet to the basin faucet, kitchen faucet, vertical bathtub faucet, water heater, central air conditioner, and toilet to form a water supply channel or drain pipe
Corrugated pipe: used for high-temperature liquid and gas transmission water heater inlet pipe, gas delivery pipe faucet inlet pipe, etc. For areas with poor water quality, the water heater connecting pipe is preferred to choose the corrugated pipe for longer use time
C: Production method and performance sample
Stainless steel braided hose: The whole tube is braided with 6 strands of rust steel wire. The flexibility is better and the anti-riot effect is better. Compared with the bellows, the diameter is small and the water flow is small.
Stainless steel bellows: the tube body is uneven and flat, only the outer tube has no inner tube. When the tube body is harder, pay special attention to choosing a vertical installation and bend multiple times at the same place to avoid water leakage and fracture
D: Each advantage
Advantages of stainless steel bellows: corrosion resistance, high temperature resistance, high pressure resistance, suitable for heating pipes with large diameter equal to large water flow
Disadvantages of stainless steel bellows: when installing
It must be kept vertical to the joint. Otherwise, it will easily cause the water leakage. The bellows is easy to bend at the same place many times, otherwise it will cause the wall of the bellows to break. Secondly, the price is expensive.
Advantages of stainless steel braided pipe: The internal connecting pipe and the gasket of the connecting part are made of EPDM high-quality rubber, non-toxic, anti-aging, anti-ozone, anti-erosion, cold resistance, high temperature resistance, high pressure resistance, excellent sealing, and low price
Disadvantages of stainless steel braided pipe: the process is complex and the high temperature resistance strength is worse than that of the corrugated pipe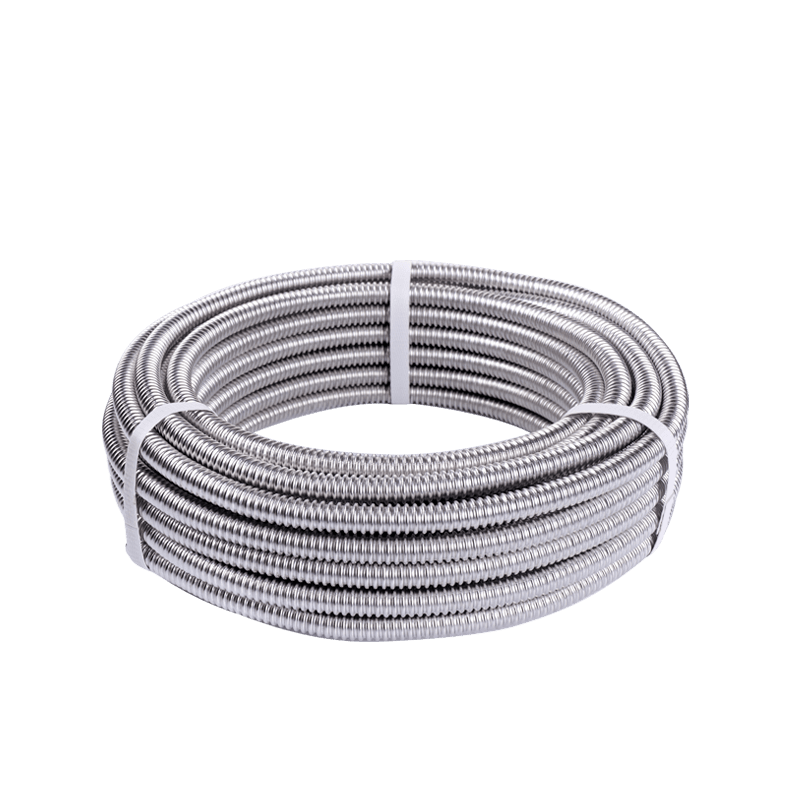 Shanghai Sansheng Health Technology Co.,Ltd. with more than 20 years' history is headquartered in Shanghai city. We enjoy very convenient traffic, near Pudong airport and Ningbo port. Shanghai factory covers over 24000 square meters, produces corrugated stainless steel tube. The branch factory is located in Yuhuan Zhejiang province, supply all kinds of brass valves and fittings.As a famous 
China corrugated stainless steel tubing manufacturers
 and 
custom stainless steel flexible hoses factory
, our core business is the production of CSST corrugated stainless steel tube 304 (with high resistance to pressure and deformation ) for two different applications: Plumbing and Gas.We specialize in manufacturing and supplying a wide variety of water tube and gas tube, 
wholesale stainless steel flexible hoses
, and all kinds of fittings. Our ISO9001 certification further assures our internal and external quality control. We guarantee our customers high-quality products, quick delivery, and direct and attentive customer service. All the while we continue to actively seek mutual cooperation in business and technology, advocating OEM and ODM projects. We are looking forward to working with you.