Stainless steel corrugated pipe
is installed in the liquid conveying system as a kind of flexible pressure-resistant pipe to compensate for the mutual displacement of the pipes or the connecting ends of machines and equipment, absorb vibration energy, and can play the role of vibration reduction and noise reduction. It has good flexibility and light weight. , Corrosion resistance, fatigue resistance, high and low temperature resistance and many other features.
The rigidity of the metal bellows makes the metal bellows or other elastic elements produce a unit displacement required load value is called the stiffness of the element, generally represented by "K". If the elastic properties of the element are non-linear, the stiffness is no longer constant, but changes as the load increases. Nominal stiffness The stiffness given in the design and calculation of the elastic element is called the nominal (or rated) stiffness. It has an error with the measured stiffness of the element, especially the elastic element with nonlinear elastic characteristics. Nominal stiffness represents the stiffness at which point on the curve, it must be carefully considered. Generally speaking, the nominal stiffness is best not to directly use the calculated value of the design, but to use the corrected value of the product prototype after testing. Stiffness tolerance is the allowable dispersion range of stiffness when testing a batch of elastic elements. For the same batch of elastic elements, the rigidity of each element of the stainless steel metal hose is different, and there is a dispersion range. In order to ensure the performance of the components, there must be a limit to the stiffness dispersion range. For elastic sensitive components, the rigidity tolerance requirement is limited to within +/-5% of the nominal value; for general engineering corrugated pipe elastic components, the rigidity tolerance can be limited to within +/-50%.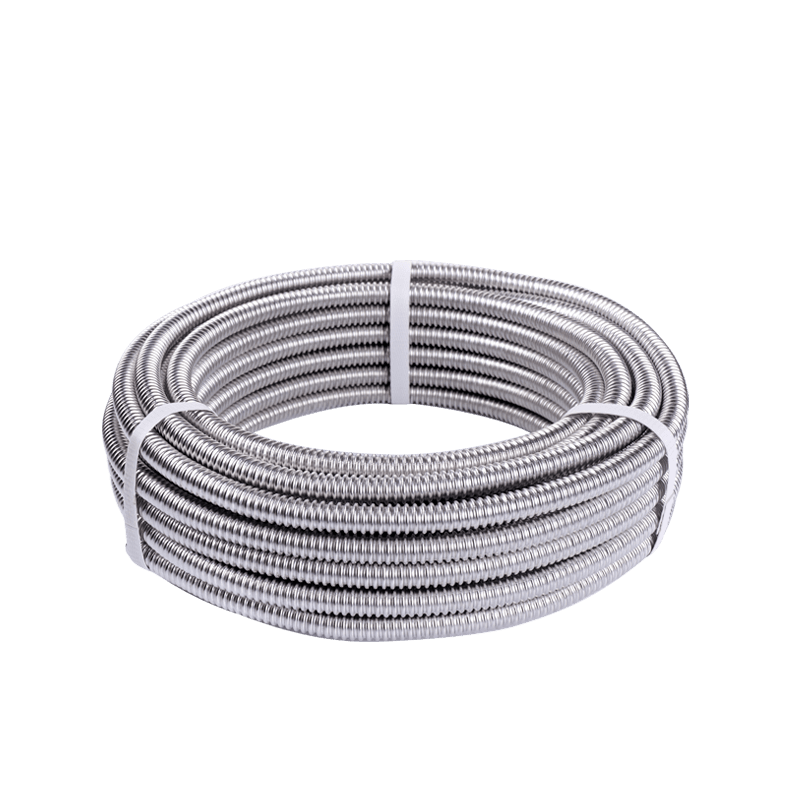 Shanghai Sansheng Health Technology Co.,Ltd. with more than 20 years' history is headquartered in Shanghai city. We enjoy very convenient traffic, near Pudong airport and Ningbo port. Shanghai factory covers over 24000 square meters, produces corrugated stainless steel tube. The branch factory is located in Yuhuan Zhejiang province, supply all kinds of brass valves and fittings.As a famous 
China corrugated stainless steel tubing manufacturers
 and 
custom stainless steel flexible hoses factory
, our core business is the production of CSST corrugated stainless steel tube 304 (with high resistance to pressure and deformation ) for two different applications: Plumbing and Gas.We specialize in manufacturing and supplying a wide variety of water tube and gas tube, 
wholesale stainless steel flexible hoses
, and all kinds of fittings. Our ISO9001 certification further assures our internal and external quality control. We guarantee our customers high-quality products, quick delivery, and direct and attentive customer service. All the while we continue to actively seek mutual cooperation in business and technology, advocating OEM and ODM projects. We are looking forward to working with you.