Hose
is widely used in modern industry and is an important part of modern industry. Metal hose is a very common hose, mainly used as communication wire and cable protection tube and civil shower hose. What is the classification of metal hoses? Let's take a look at the classification of metal hoses and the characteristics of metal hoses.
What is the classification of metal hoses?
1. Threading metal hose: The threading metal hose is mainly made of stainless steel, which has good flexibility, corrosion resistance and tensile properties, high temperature resistance, abrasion resistance, and is mainly used as a protective tube for wires and cables.
2. Corrugated metal hose: Corrugated metal hose is mainly composed of corrugated pipe, net cover and joints. The corrugated tube plays a flexible role in the corrugated metal hose, which is made of thin-walled stainless steel with spiral or circular waveforms. The net cover is made of crossed metal wires or metal belts in a certain order. It is installed on the outer surface of the metal bellows and has the function of strengthening and shielding. The structure of the joint is generally divided into screw type, flange type and fast type. According to different requirements, the connection methods of the bellows, mesh cover and joints include welding, mechanical clamping and hybrid.
3. Plastic coated metal hose: Plastic coated metal hose is a new type of hose. The inner layer is specially treated with stainless steel hose or galvanized hose, and the outer layer is made of PVC material. It has the characteristics of anti-ultraviolet and anti-aging.
What are the characteristics of metal hoses?
1. The metal hose is mainly made of stainless steel with high corrosion resistance.
2. The working temperature range of metal hose is very wide, from -196℃ to 600℃. Has good resistance to high and low temperatures.
3. The metal hose body is hydraulically formed, which has the characteristics of good flexibility, good flexibility, strong bending and seismic resistance, bending resistance, tensile resistance, and lateral pressure resistance.
4. The metal hose has good wear resistance, which can prevent rat bites and protect the internal wires from damage.
5. There are many pipe fittings of metal hose, which is convenient to connect with other equipment. In addition to threads and flanges, both ends of the hose can also be made into other connection methods to facilitate connection and use with other equipment.
6. The metal hose is easy to thread, install and locate. It is not only suitable for matching with rotary joints, but also widely used in flexible connections for multi-fluid media transportation.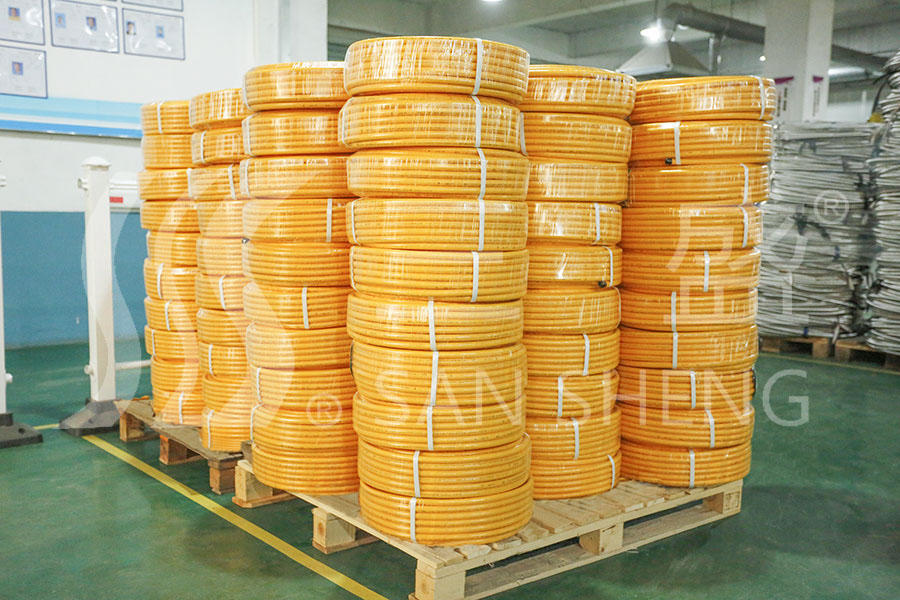 Shanghai Sansheng Health Technology Co.,Ltd. with more than 20 years' history is headquartered in Shanghai city. We enjoy very convenient traffic, near Pudong airport and Ningbo port. Shanghai factory covers over 24000 square meters, produces corrugated stainless steel tube. The branch factory is located in Yuhuan Zhejiang province, supply all kinds of brass valves and fittings.As a famous 
China flexible metal hoses manufacturers
 and 
custom metal flex hoses factory
, our core business is the production of CSST corrugated stainless steel tube 304 (with high resistance to pressure and deformation ) for two different applications: Plumbing and Gas.We specialize in manufacturing and supplying a wide variety of water tube and gas tube, 
wholesale metal flex hoses
, and all kinds of fittings. Our ISO9001 certification further assures our internal and external quality control. We guarantee our customers high-quality products, quick delivery, and direct and attentive customer service. All the while we continue to actively seek mutual cooperation in business and technology, advocating OEM and ODM projects. We are looking forward to working with you.