Stainless steel materials are health materials that can be implanted into the human body, so for water supply pipes,
stainless steel pipes
are the most beneficial to health. In the immersion water test, all indicators are in line with the relevant national drinking water regulations. The inner wall of the stainless steel pipe is lubricated, and it will not be fouled or easily stained by bacteria after long-term use. There is no need to worry about water quality being affected, and it can prevent secondary water pollution.
The material selection emphasizes that all original materials adopt trademarks of 304, 304L, 316, 316L, which all meet the requirements of JIS4305. The above trademarks have the characteristics of stable function, high strength, and low thermal expansion coefficient. The thin and dense chromium-rich oxide film on the surface of durable stainless steel makes stainless steel water pipes have good corrosion resistance in all water quality including soft water.
Even in buried applications, it has excellent corrosion resistance; field corrosion test data shows that the service life of stainless steel water pipes can reach 100 years, and there is almost no need for protection during the life cycle, which avoids the cost and trouble of pipe replacement, and the comprehensive application cost is low . 04 | High temperature and high pressure resistance, stainless steel can work safely for a long time at -270℃-400℃, no matter it is high temperature or low temperature, no harmful substances will be precipitated.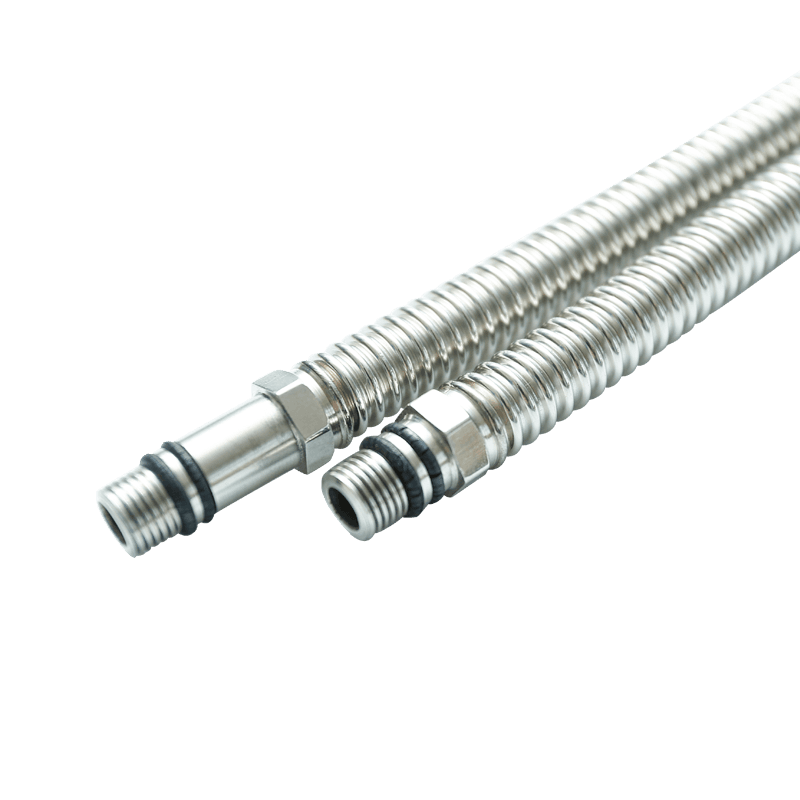 Shanghai Sansheng Health Technology Co.,Ltd. with more than 20 years' history is headquartered in Shanghai city. We enjoy very convenient traffic, near Pudong airport and Ningbo port. Shanghai factory covers over 24000 square meters, produces corrugated stainless steel tube. The branch factory is located in Yuhuan Zhejiang province, supply all kinds of brass valves and fittings.As a famous 
China corrugated stainless steel tubing manufacturers
 and 
custom stainless steel flexible hoses factory
, our core business is the production of CSST corrugated stainless steel tube 304 (with high resistance to pressure and deformation ) for two different applications: Plumbing and Gas.We specialize in manufacturing and supplying a wide variety of water tube and gas tube, 
wholesale stainless steel flexible hoses
, and all kinds of fittings. Our ISO9001 certification further assures our internal and external quality control. We guarantee our customers high-quality products, quick delivery, and direct and attentive customer service. All the while we continue to actively seek mutual cooperation in business and technology, advocating OEM and ODM projects. We are looking forward to working with you.