Judging from the indoor gas safety accidents that have occurred in China in recent years, more than 90% of the accidents are caused by the problem of the hose connecting the gas. Due to the relatively high temperature in the kitchen and the storage of many things, the rubber hose is easy to age, fall off, wear out, and be easily bitten by rodents and insects. It needs to be checked frequently and replaced once a year. In addition, the use of rubber hose must be equipped with a pipe buckle, otherwise it will easily fall off and cause an accident. The hose should not be arranged close to the furnace head to prevent damage from high temperature. When not using gas, close the single-mouth valve, namely the valve behind the meter, to keep the kitchen ventilated.
Compared with rubber hose, stainless steel corrugated hose has the following advantages:
Anti-aging rubber will become brittle, hard, crack, fracture and other aging phenomena under natural conditions, but stainless steel will not. The high temperature resistant rubber hose is not resistant to high temperature, and will soften and catch fire under the flame. The stainless steel pipe body of the stainless steel corrugated hose can withstand high temperature, and the flame baking will only affect the outer PVC protective layer. The anti-rat bite rubber hose is not anti-rat bite, but the teeth of ordinary animals cannot help the stainless steel pipe body of the stainless steel corrugated hose.
The anti-falling rubber hose will not fall off naturally after the clip is installed, but it cannot guarantee the safety in accidental situations such as aging shrinkage and external force pulling. Stainless steel corrugated hoses are generally connected by threaded screws, which can withstand the pulling of an adult and prevent accidental falling off. Corrosion-resistant rubber hoses are organic materials and are not resistant to oil, while stainless steel corrugated hoses are made of austenitic stainless steel, which can handle common corrosive liquids, and the coated PVC protective layer also has a certain anti-corrosion effect. The service life of the long-life rubber hose is 18 months, that is, one and a half years, while the service life of the stainless steel corrugated hose is 8 years, and the comprehensive calculation is cheaper.
Of course, using a stainless steel hose is not foolproof, and it can be paralyzed. The back-and-forth disturbance may cause metal fatigue or air leakage at the threaded interface, so the stainless steel corrugated hose should not be too long. If it exceeds 1.5m, it needs to be fixed. After being mechanically damaged by external force, we cannot judge whether it has cracks or stress concentration with the naked eye, so it must be replaced.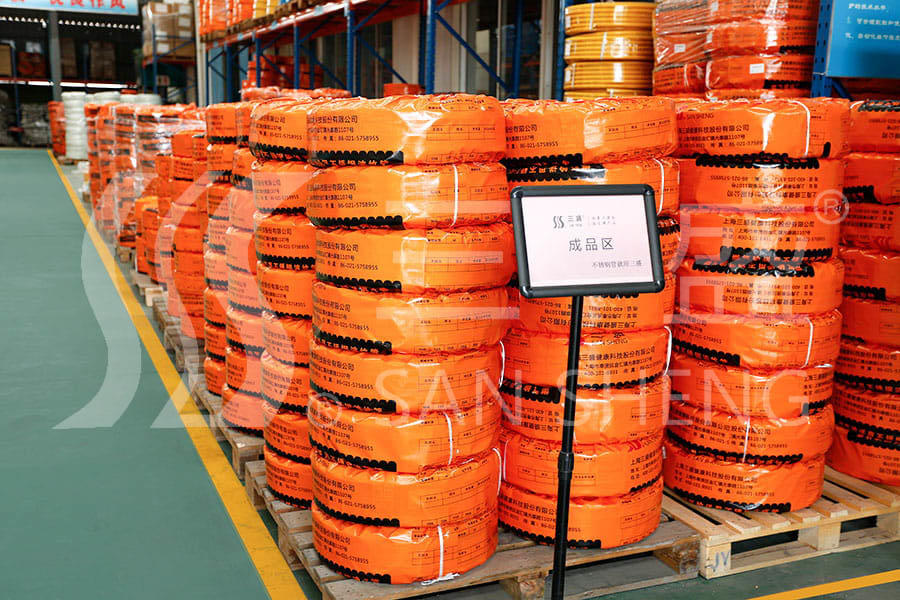 Shanghai Sansheng Health Technology Co.,Ltd. with more than 20 years' history is headquartered in Shanghai city. We enjoy very convenient traffic, near Pudong airport and Ningbo port. Shanghai factory covers over 24000 square meters, produces corrugated stainless steel tube. The branch factory is located in Yuhuan Zhejiang province, supply all kinds of brass valves and fittings.As a famous 
China corrugated stainless steel tubing manufacturers
 and 
custom stainless steel flexible hoses factory
, our core business is the production of CSST corrugated stainless steel tube 304 (with high resistance to pressure and deformation ) for two different applications: Plumbing and Gas.We specialize in manufacturing and supplying a wide variety of water tube and gas tube, 
wholesale stainless steel flexible hoses
, and all kinds of fittings. Our ISO9001 certification further assures our internal and external quality control. We guarantee our customers high-quality products, quick delivery, and direct and attentive customer service. All the while we continue to actively seek mutual cooperation in business and technology, advocating OEM and ODM projects. We are looking forward to working with you.