First of all, the corrugated pipe products produced by good
flexible metal hoses
manufacturers should do the following product testing experiments:
1. Rigidity test: when the concentrated load is 0.75KN or the uniform load is 1.5KN, the radial deformation is less than or equal to 0.1d.
2. Impermeability test: no water leakage or slurry leakage after 30 minutes of irrigation or cement slurry with a water-cement ratio of 0.5.
3. Tensile test: no damage to the pipe wall with an axial tensile force of 5KN.
4. Pull-out test: The pull-out resistance of the anchor bolts embedded in concrete is more than 2.3 times the design pull-out force of the anchor bolts.
5. Bending test: when the bending degree is 30d of the radius of curvature, there is no leakage of water or slurry.
Specifications: The material of the steel strip is a steel strip with a thickness of 0.25mm~0.3mm. The formed corrugated pipe (detection tube) needs a thickness of 0.35mm. Generally, most of the construction sites are about 0.3mm, and the difference is less than 0.03mm. The specifications of the corrugated pipe can be calculated according to the inner diameter or the outer diameter. Most people in the industry calculate according to the inner diameter. The inner diameter specifications are 50mm-100mm, (the factor of ten), and of course there is a 55mm stainless steel flexible hose. As for more than 100, many places do not provide (not to discuss). Secondly, in terms of reducing the cost of purchasing products.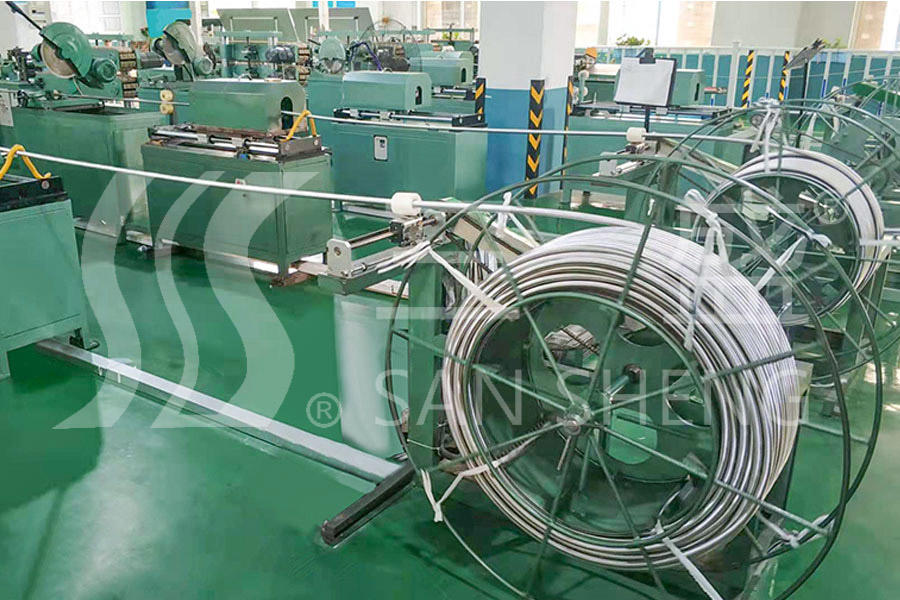 SS 304 Flexible Corrugated Metal Tube For Gas
1: Healthy, safe, environment
2: High and low temperature resistance, high pressure resistance
3: No scaling, corrosion resistance
4. Resistant to pressure deformation, good flexibility
Gas tube is special tube used for gas application. Instead of traditional rubber hose, Sansheng gas tube is easy to install, reliable connection, corrosion resistance, more flexible, long life, good bending performance. The flexible covering material make the tube more safe, cleaner and nicer. It is widely used in the market .